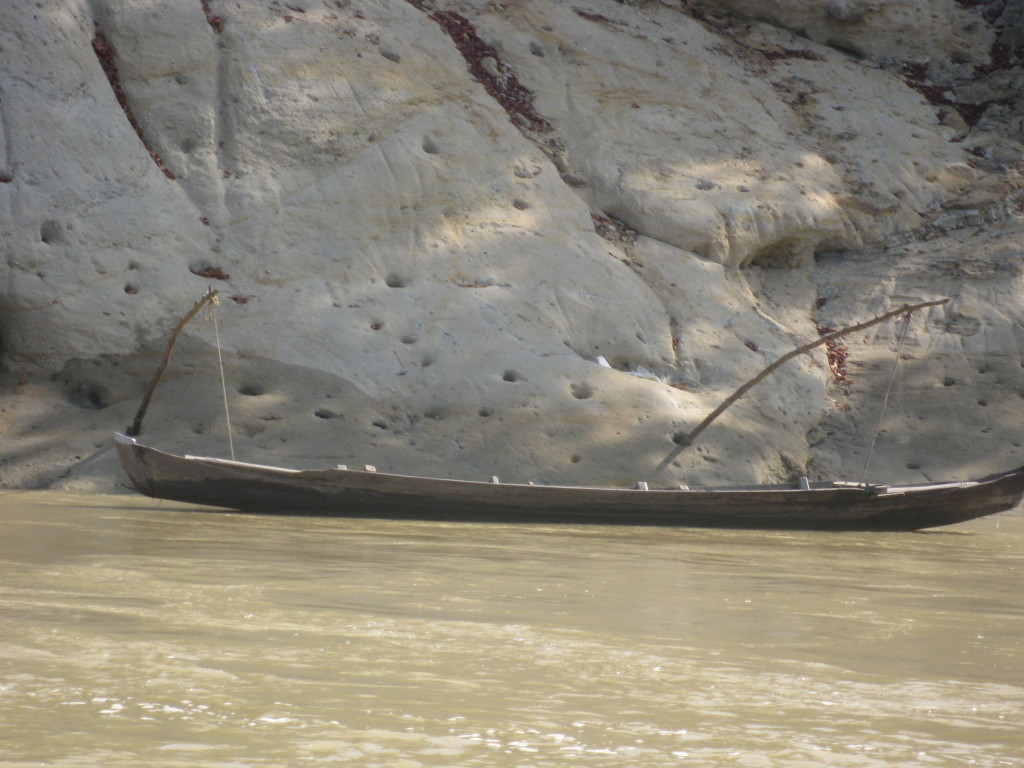 In January 2014, the Chindwin River was not a popular destination for foreigners. I saw no other Caucasian on the voyage traveling upriver between Monywa and Homalin.  I was asked several times if I was a missionary (what did that mean?)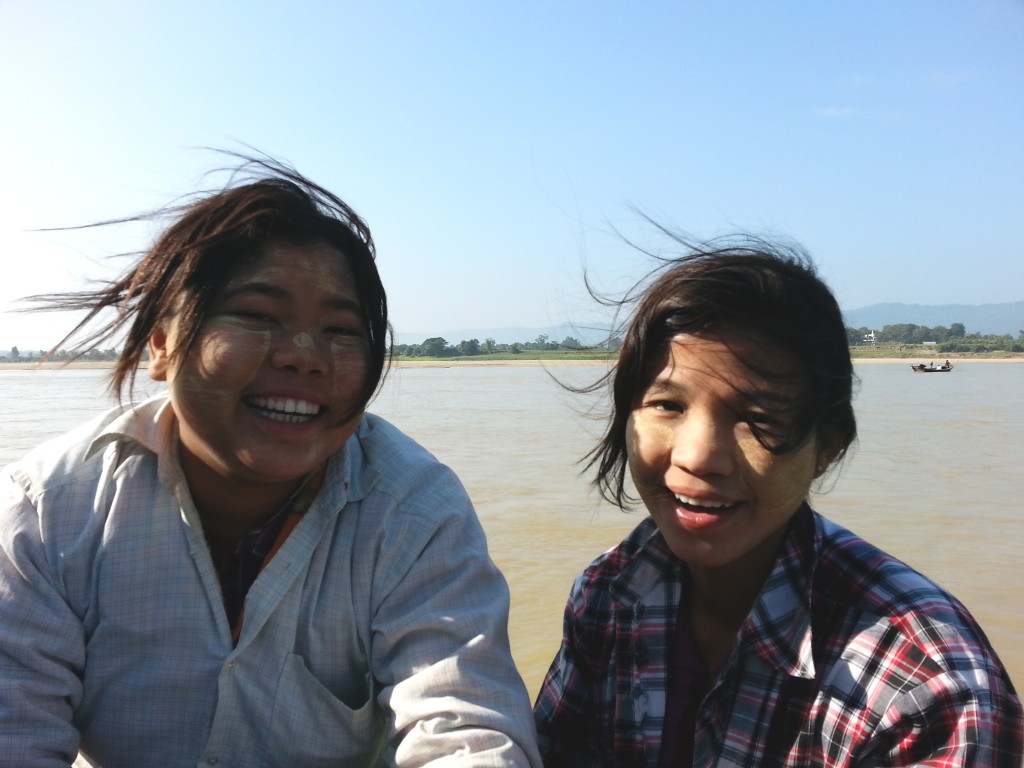 The blog below is for those considering a similar trip. Without my guide, Mr. Saw, I would not have been able to purchase boat tickets and find the guest houses at each stop in the time I had to travel. Unfortunately, my time was limited. But I suggest others allow leisurely time in each village and schedule buffer time for the inevitable delays. Costs below are listed in Kyats, which at the time of my trip had a conversion ratio of 1000 Kyats (pronounced chats) to $1 USD. Don't expect to find banks or atms. Carry both small denominations of Kyats for river travel and USD for places where they won't take Kyats from foreigners.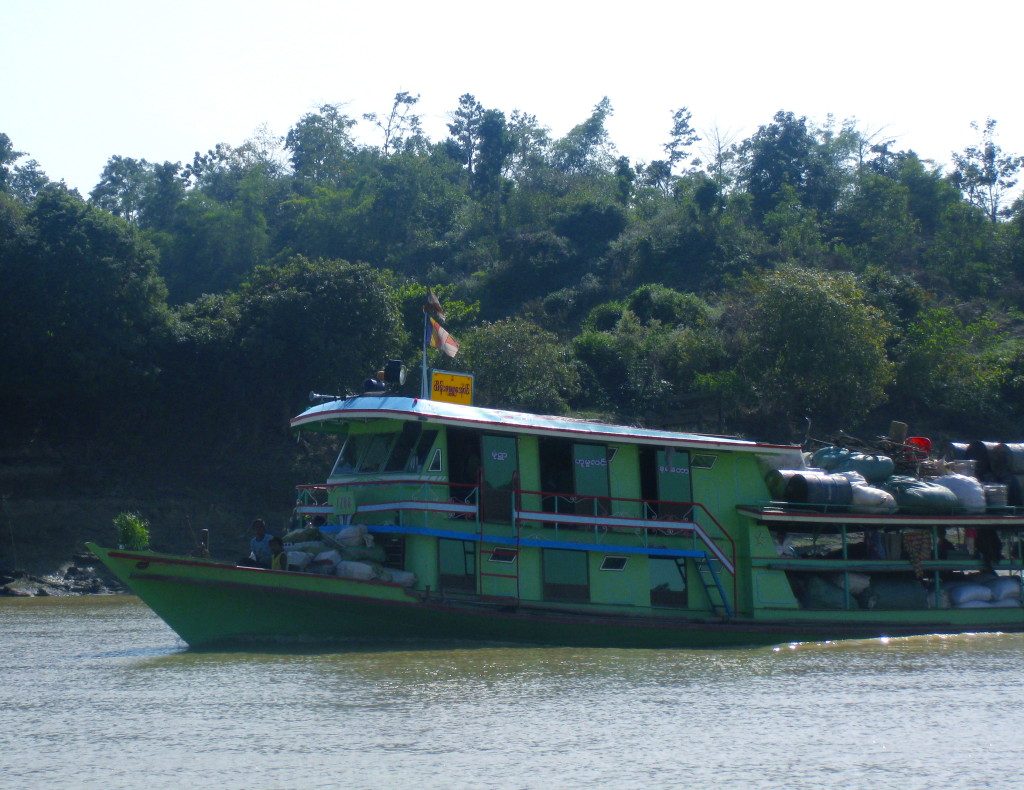 Leave Monywa by boat at 3 a.m.  Arrive in Kalewa at 5:30 p.m. The trip along the parallel road takes 10 hours.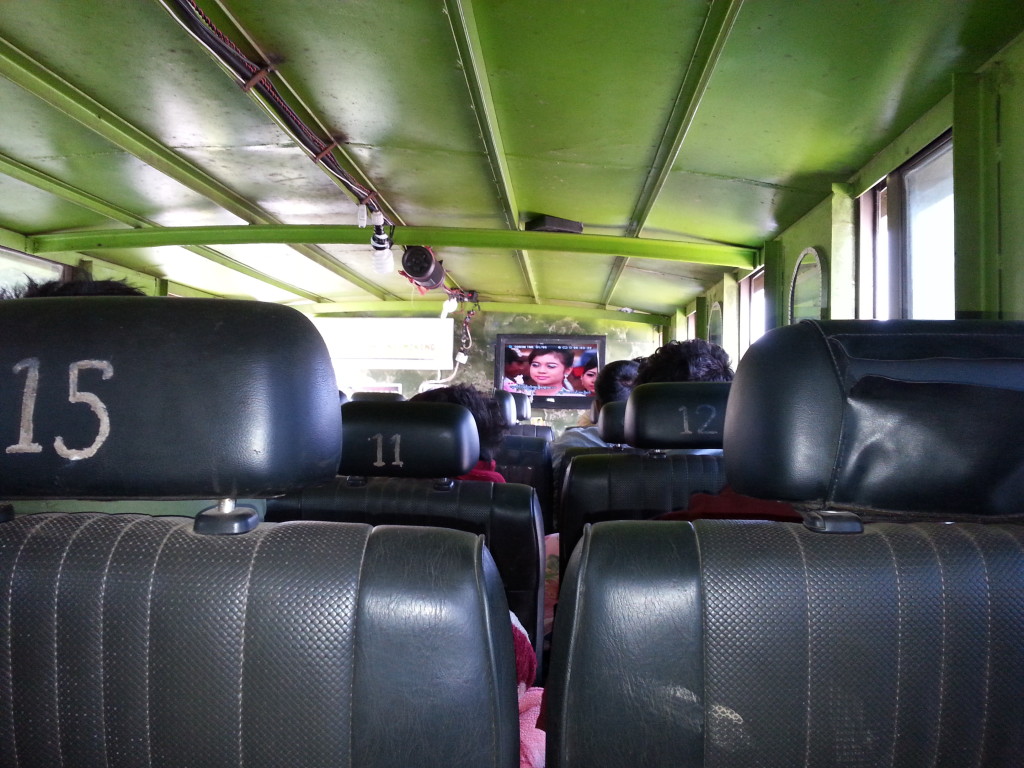 First-class entertainment was a TV at the front of the boat. High pitch Burmese songs blared non-stop from 3 a.m. until 3 p.m. I was thankful for the cushioned seat rather than a hard bench seat for 14 hours.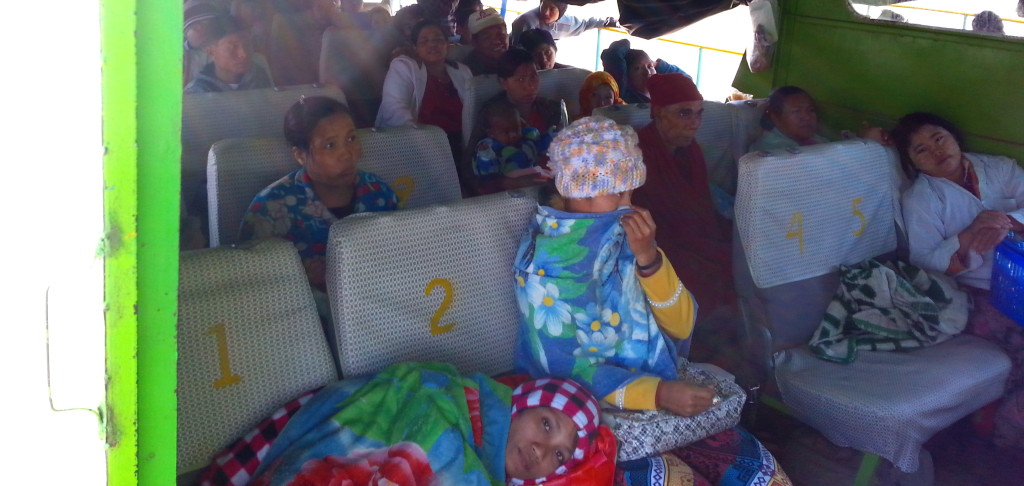 Boat Cost for 1st class was: 33,000 Kyats for foreigners and 17,000 Kyats for local residents. You must pay for your guide.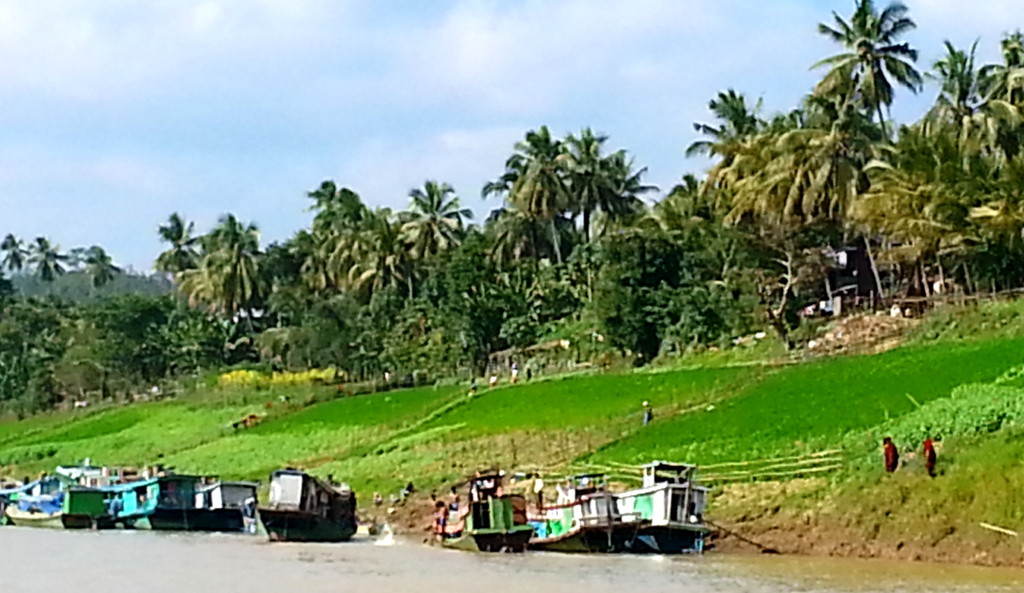 Porters charged 500 kyats to carry my 50-pound bag up the hill.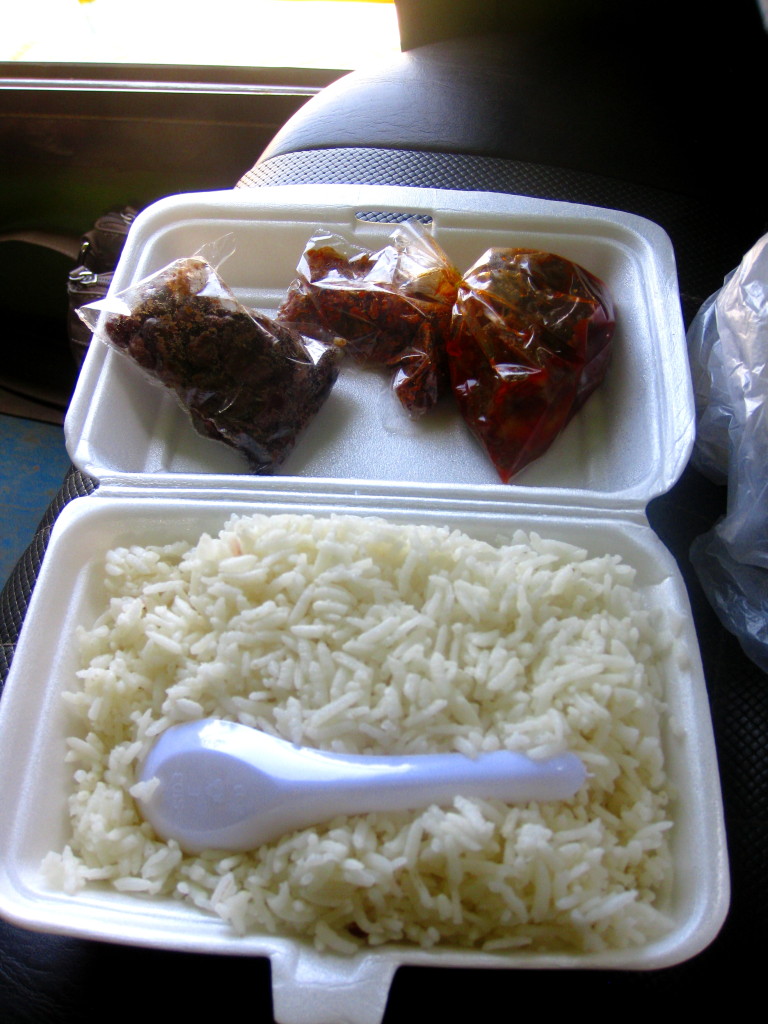 Food on the boat came with the ticket but dinner in the village cost about 1500 Kyats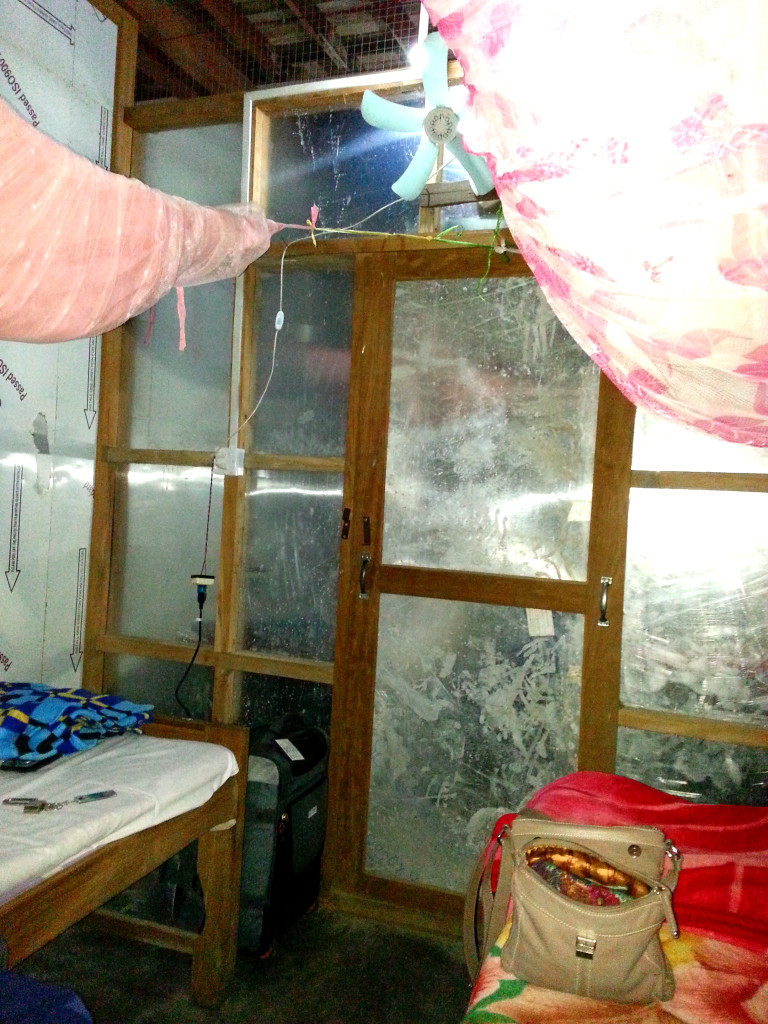 The guest house in Kalewa cost 6000 Kyats  Electricity was on from 6 p.m. to 9 p.m.  This is important if you want to charge a phone or computer. I used only the phone's camera since there was no cell coverage. Some villages had internet connections when there was electricity but most of the time, the internet was down.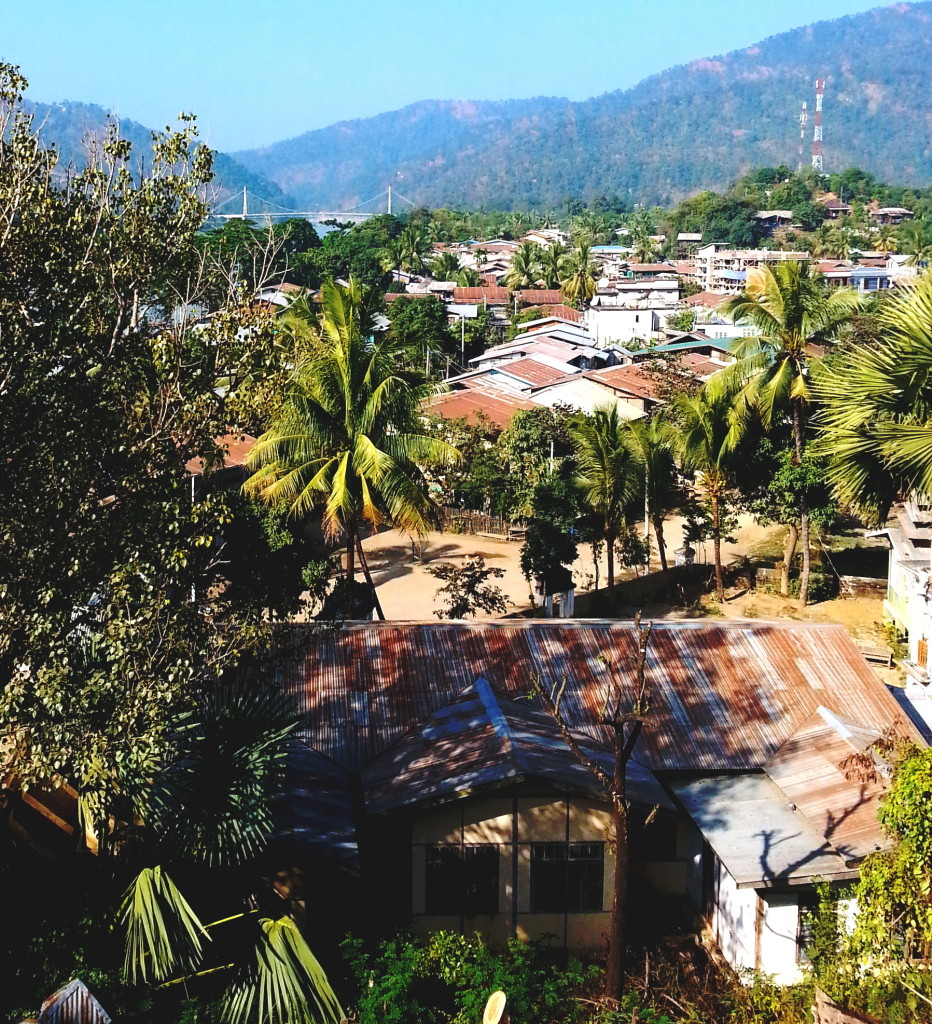 Many foreigners traveling down the river from Homalin stop at Kalewa and then fly out of Kalaymo, which is inland, rather than continue on the Chindwin to Monywa. The distance from Kalewa to Kalaymo is 20 km or a 2 hr truck ride. If you want to go further to Kennedy Peak, the route the 1942 Ragoon residents took to evade the Japanese, the distance s 70 km (or an additional 50 km west): a 4 hr truck ride.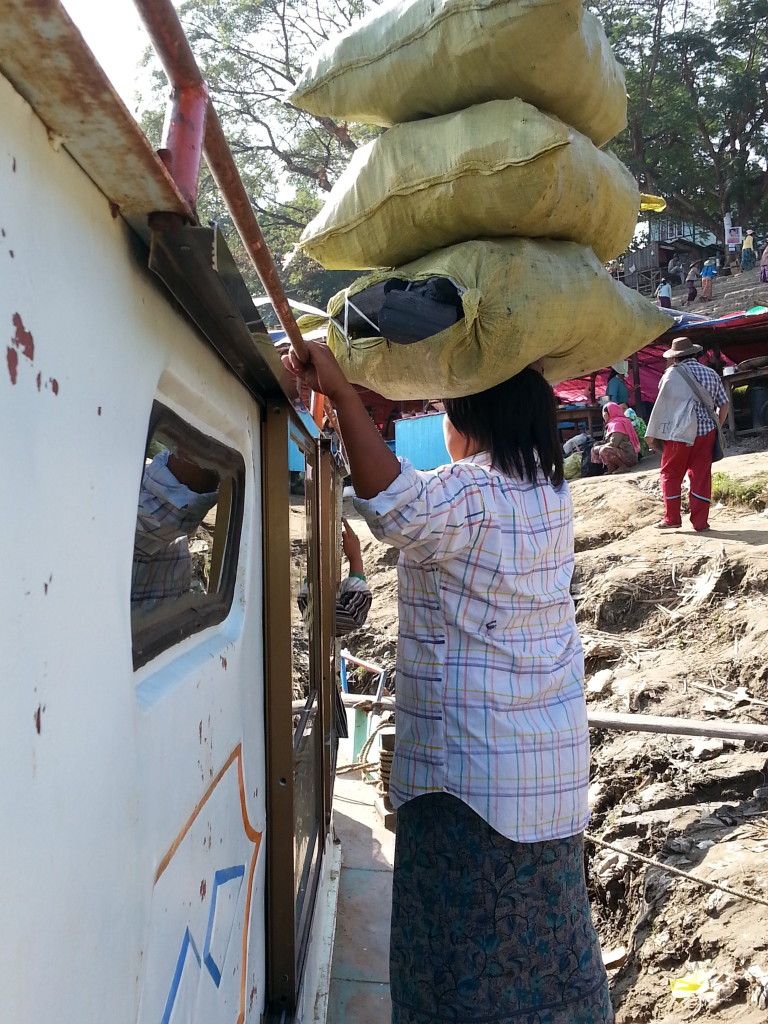 Sedimentary rock (sandstone) is found along the river, but in the foothills, coal and natural gas are mined.
Leave Kalewa by boat at 11 a.m. Arrive in Mawlaik at 5:00 p.m. Travel from Kalewa to Mawlaik by road is not possible.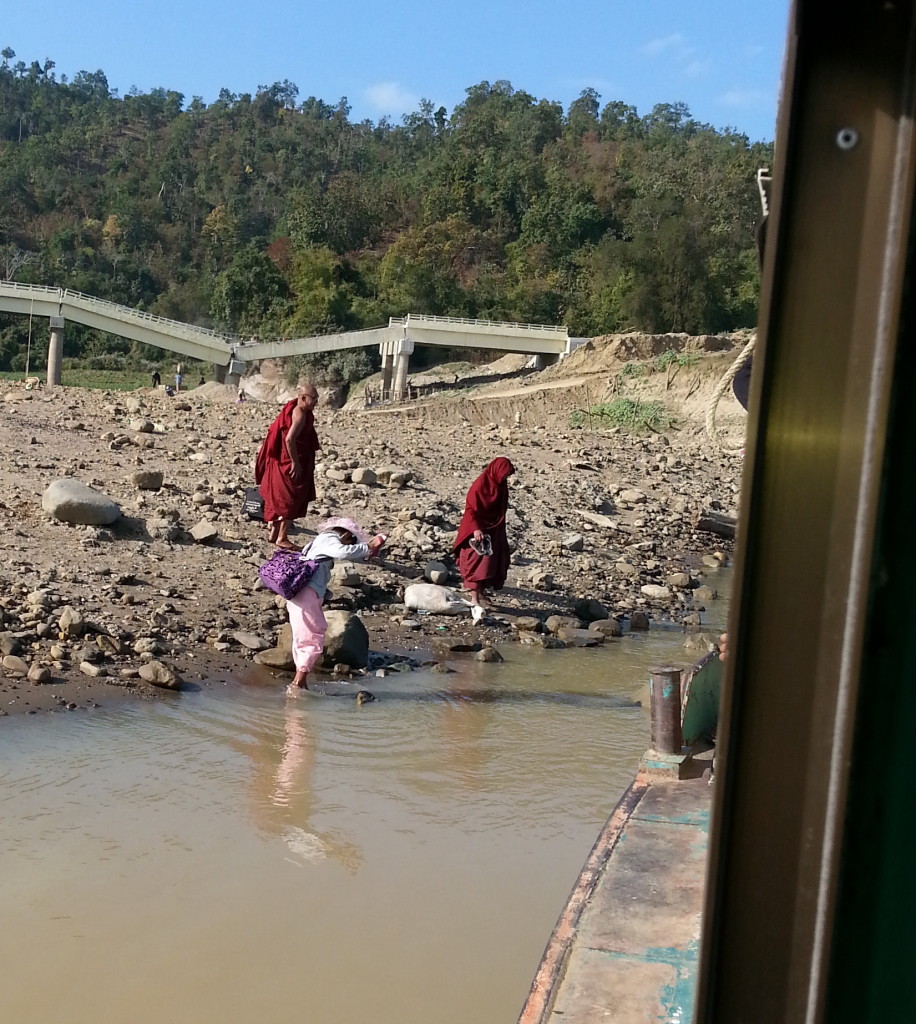 At least one bridge was down. If the bridge was serviceable, the road between Kalewa and Mawlaik is 36 km or a 3-hour drive.  Without a road, residents have to take the boat and board midstream when the river is too shallow for the boat to go to shore.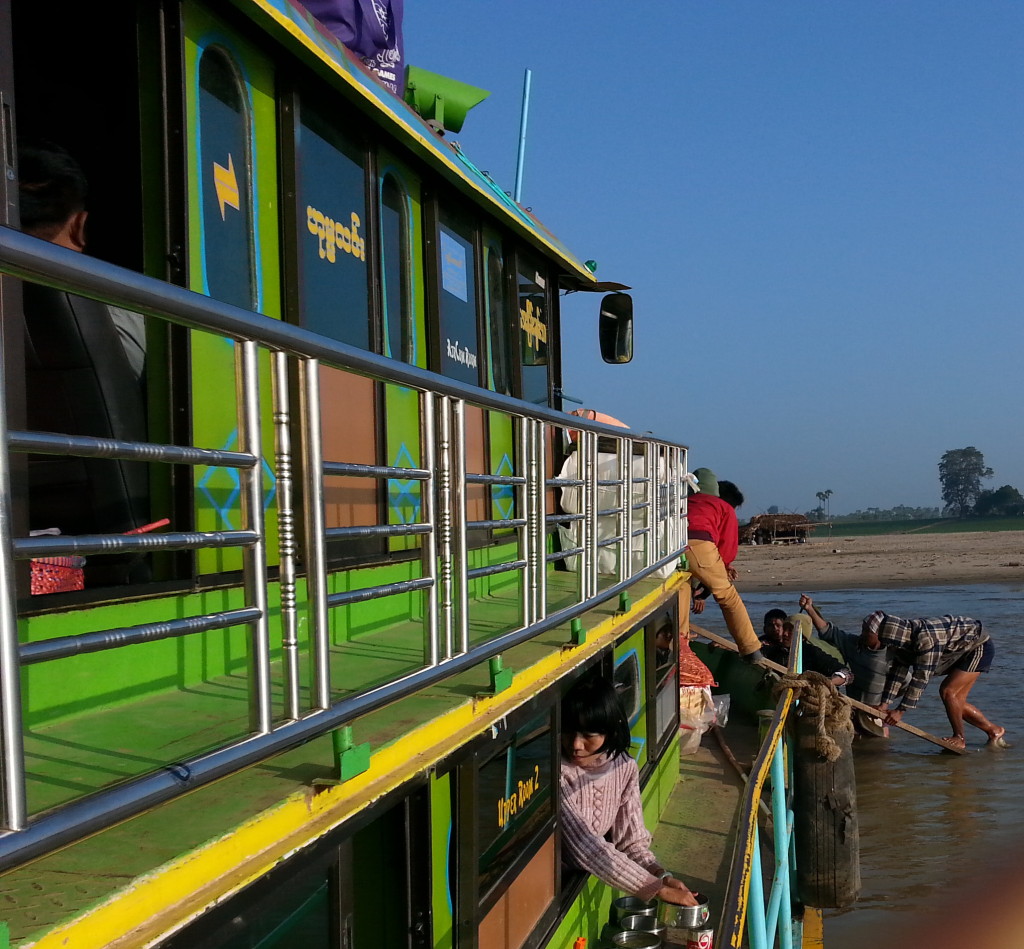 After Kalewa, first-class travel changed from cushioned seats to shared metal boxes. A log grader and government lumber inspector shared the first class box with me and my guide. They said it fit six people, but I say it fit four, uncomfortably. Our first-class lodging was 4 feet high by 10 feet wide by 8 feet long with a cotton cloth covering a metal floor.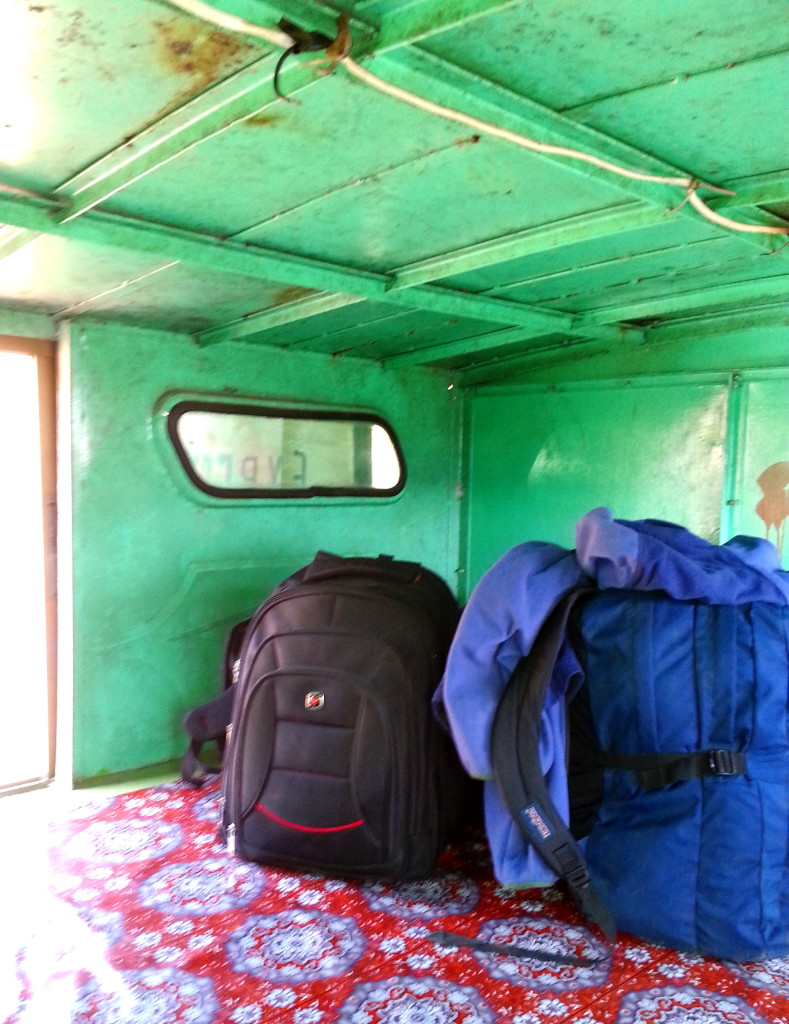 The cost of a 1st class box between Kalewa and Mawlaik was 20,000 Kyats.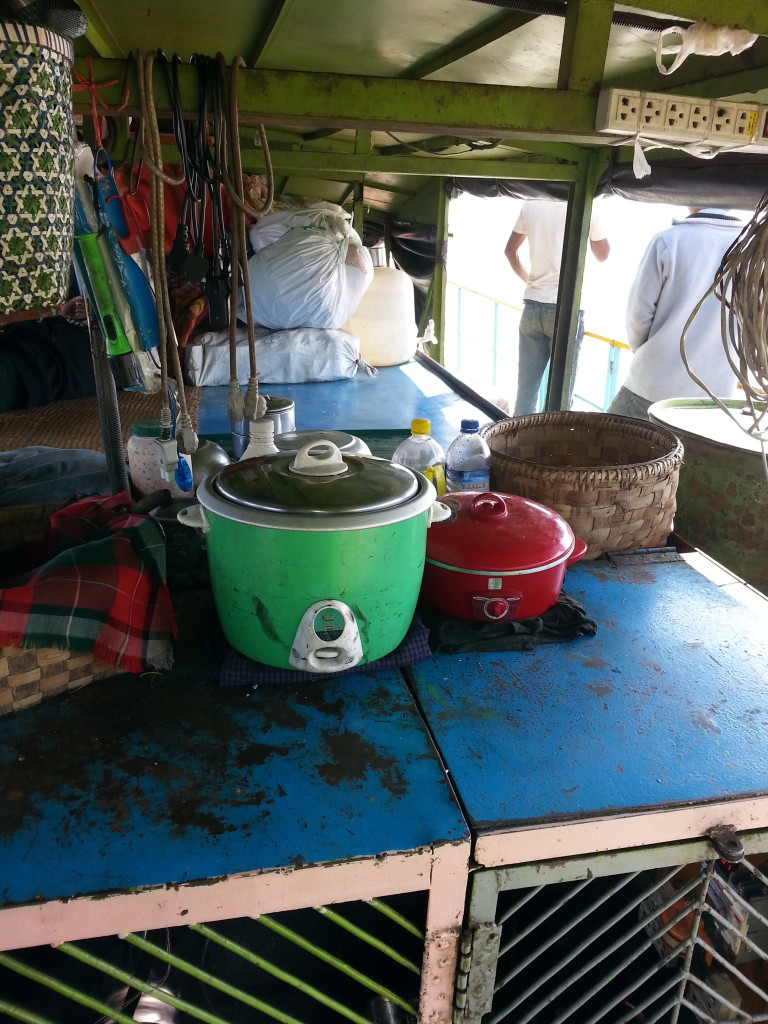 Dinner and breakfast in Mawlaik cost 6000 Kyats,  The guest house cost 10,000 Kyats but that was because I stayed longer than 24 hours or beyond the 2 p.m. cut-off time.  The Guesthouse, which was located across the street from the police station, let me use their bicycle for free to tour the village.  All guest houses have TVs. It was a good opportunity to sit with the locals and catch the news.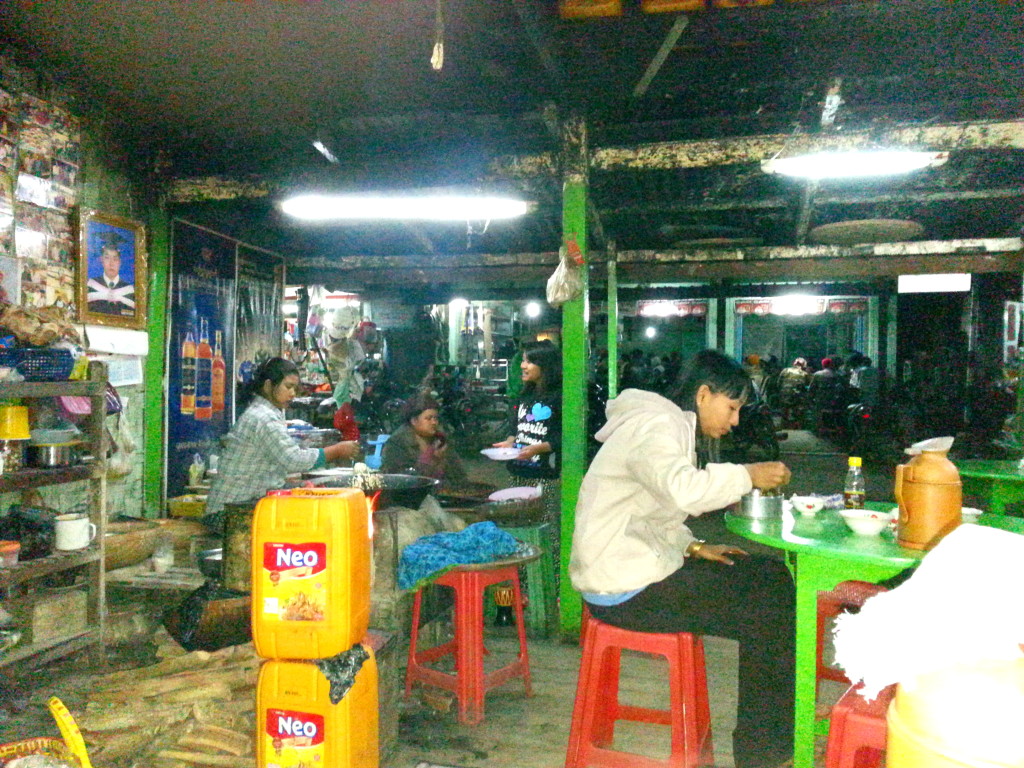 I met many geologists during my trip on the river. They were on the river conducting investigations for coal and natural gas. Another natural resource they had no interest in was sand, which was excavated and exported for construction purposes.  Unfortunately, the sand excavation resulted in undermining the banks of the river.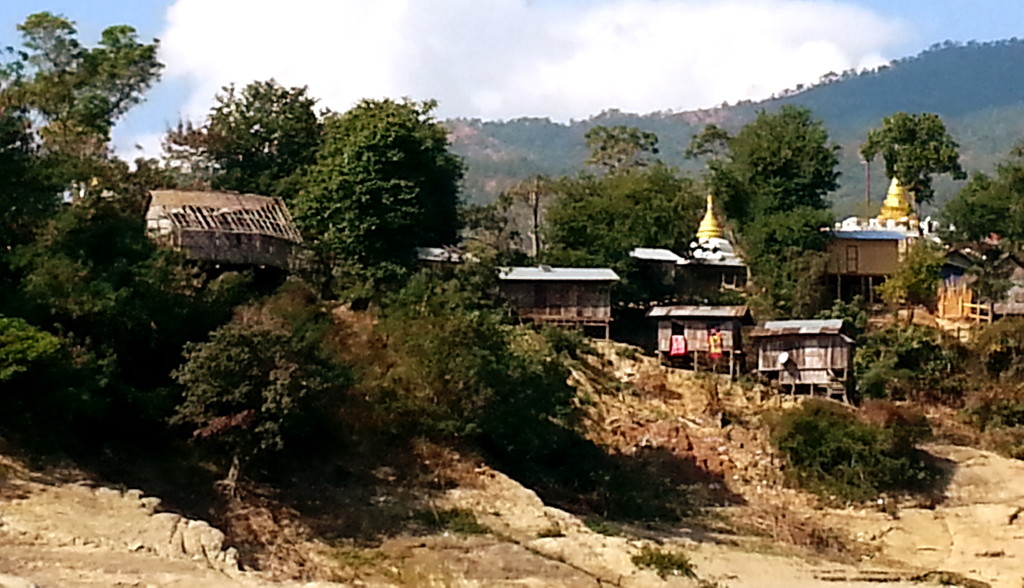 Leave Mawlaik by boat at 5:45 p.m.  Arrive in Homalin at 2 p.m.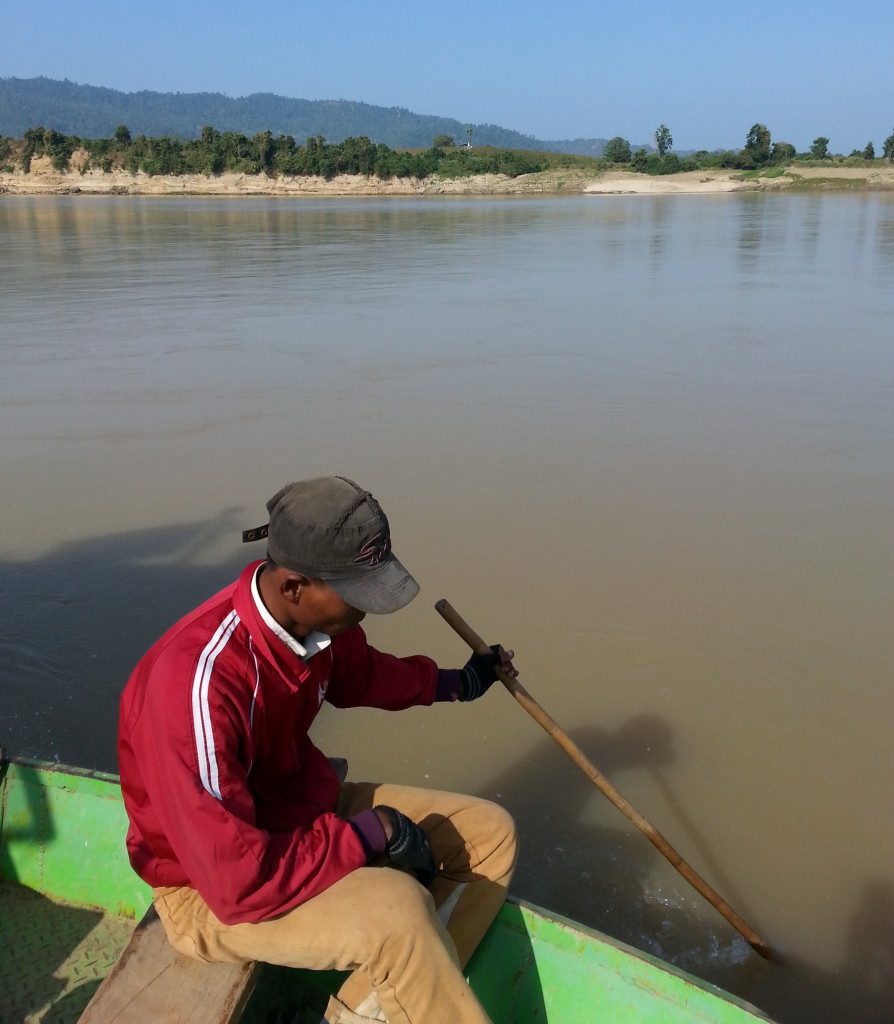 Unfortunately, the depth-finders are not so good at night. The boat grounded at 9 p.m. All the men got off the boat and for one hour, they tried to rock it free. They were unable to push it off the sandbar as they had earlier. So a tug boat called up from Mawlaik pulled us out to deeper water.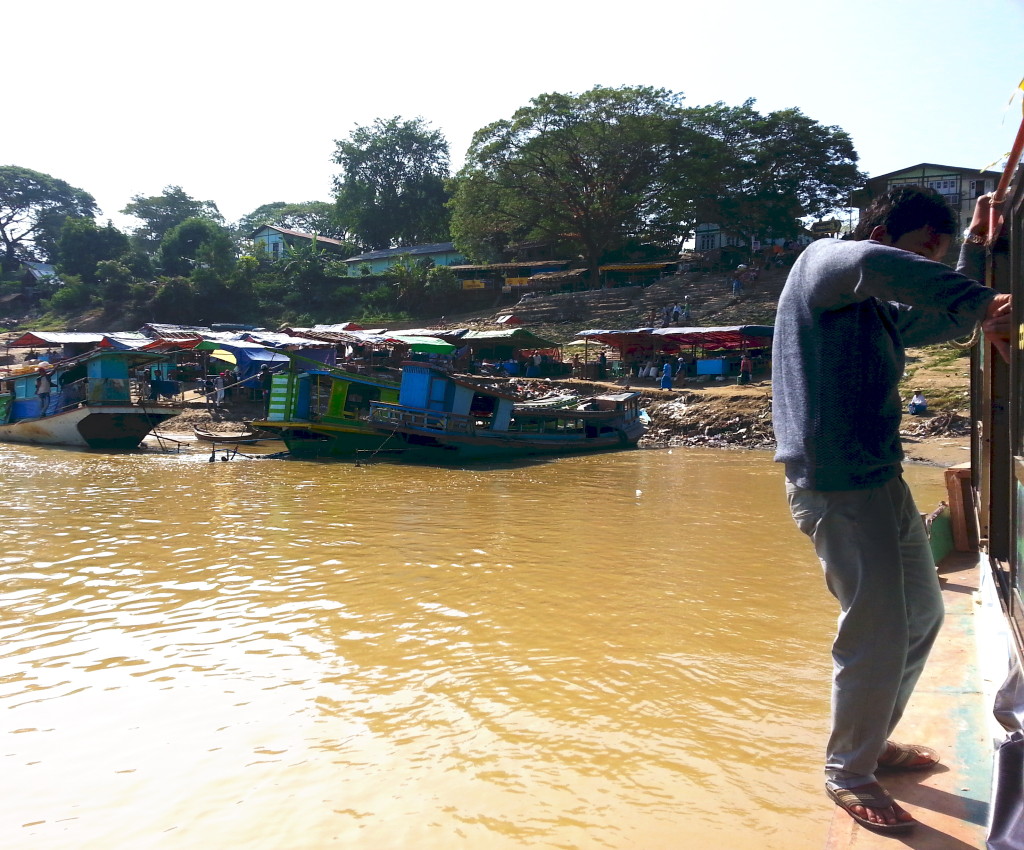 Later we got stuck on another sandbar at 2 a.m.  It was too dark to continue, so they shut down the boat until daylight, or  6 a.m.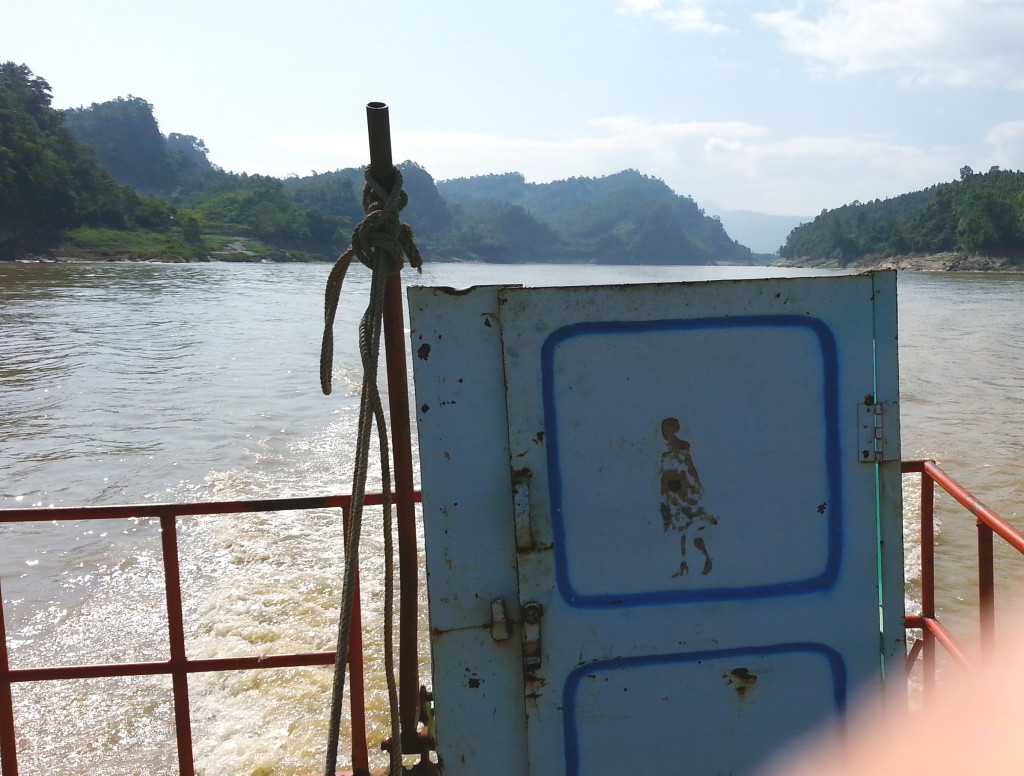 The lights in the 1st class box stayed on all night, making sleep difficult. The sounds through the paper-thin walls of snoring, farting, crying babies, and the cold metal floor, as well as gasoline smelling like it had an additive of naphthalene, made sleep impossible.
To see villages, stupas, and trade along the river was worth the inconvenience. This stretch of the river includes jade and surface gold mines and, like the rest of the river, a lot of teak logging. Early the next morning, in the dense fog, the vendor boats arrived to sell "fast food."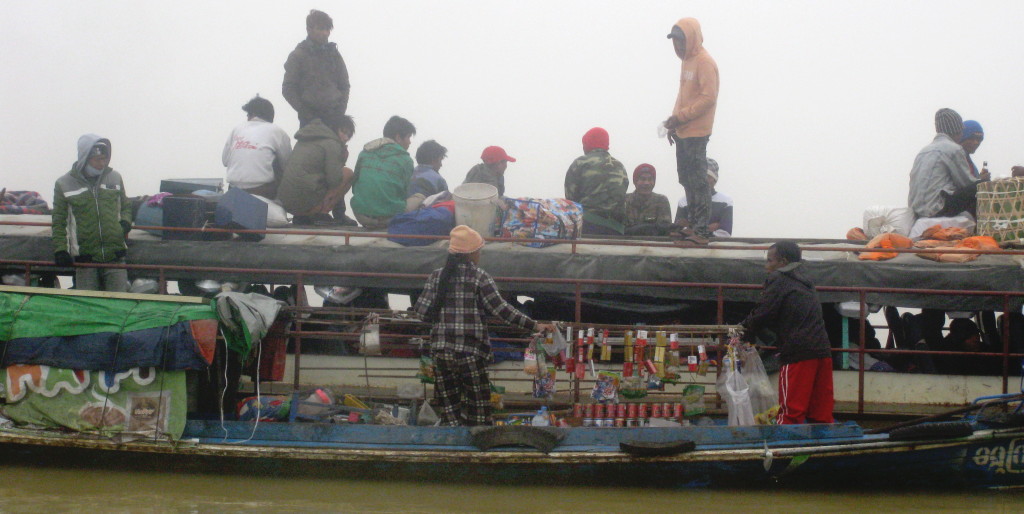 The log grader and government lumber official got off at one of the logging stops along the river. In their place, a woman who sold betel nuts to support her entire family got on to share our 1st class box. She talked, or perhaps it was the betel nut that talked, nonstop for 3 hours.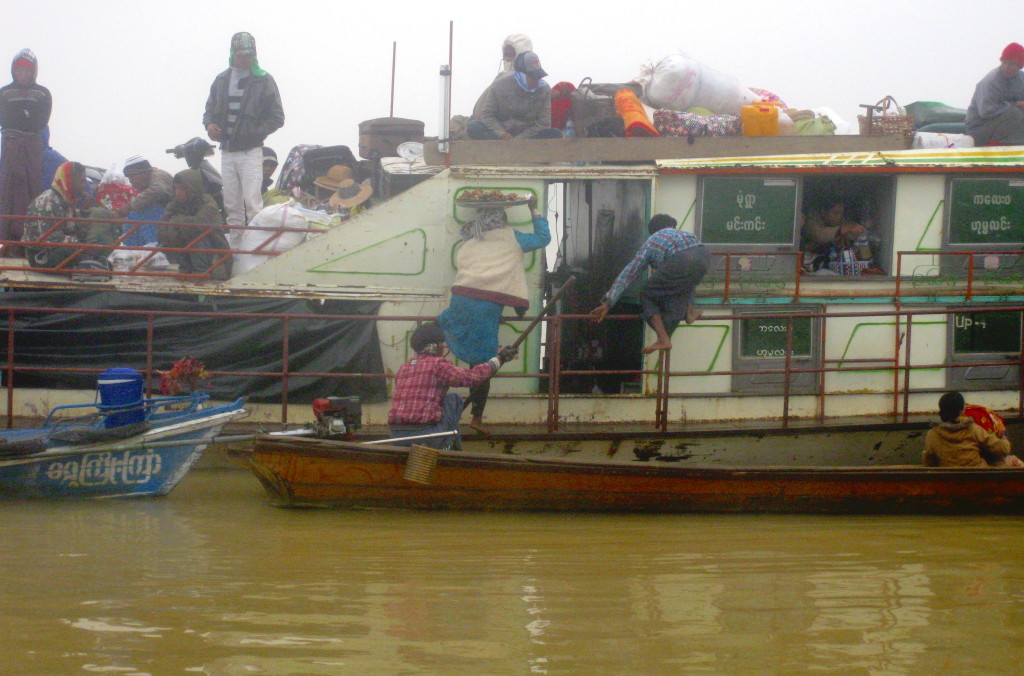 An alternative to river travel from Mawlaik to Homalin is a 100 km road on the east side of the Chindwin River. It's a 2-day ride, depending upon the weather.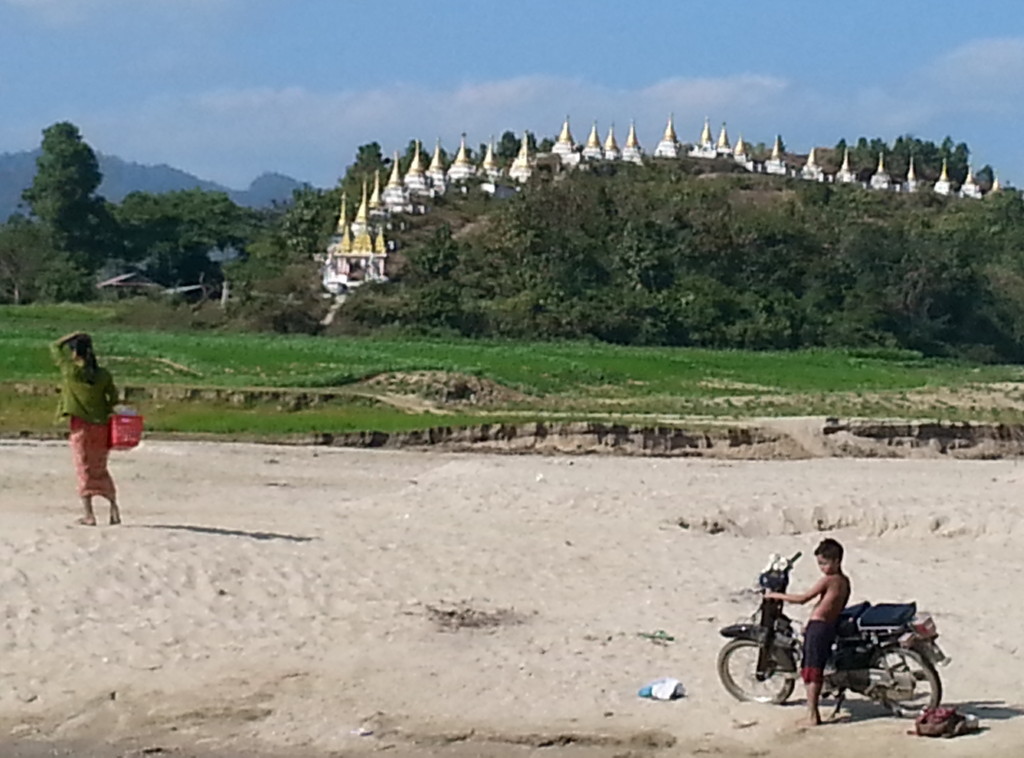 The cost of a 1st class box between Mawlaik and Homalin was 30,000 Kyats for foreigners. Food on the boat was 5000 Kyats. Once I arrived in Homalin, dinner in town was 2250 Kyats. There are more guest houses in Homalin than in the other villages along the river, but most were full when we arrived at 2:30 p.m. So I ended up at one of the simple places for 10,000 Kyats per room. They kindly provided a pail of heated water for a bucket shower.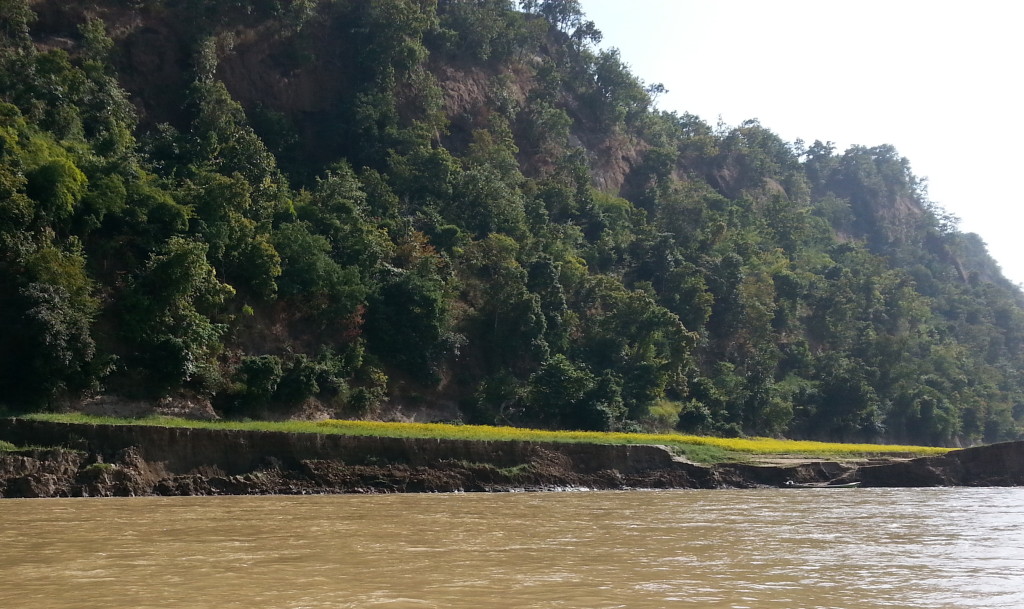 Due to the delay on the river, we arrived at the Myanma Airlines office in Homalin at 2:30  p.m. We had to wait around until 5:30 p.m. before the airline office, a nondescript wooden building, opened because they were at the airport acting as ticket takers. There are only two airlines that fly into Homalin, so departure from Homalin is limited to three times per week. If I didn't get a seat on a plane the next day, I would have been in Homalin for another four days. That would have meant missing other sites I wanted to see in Myanmar.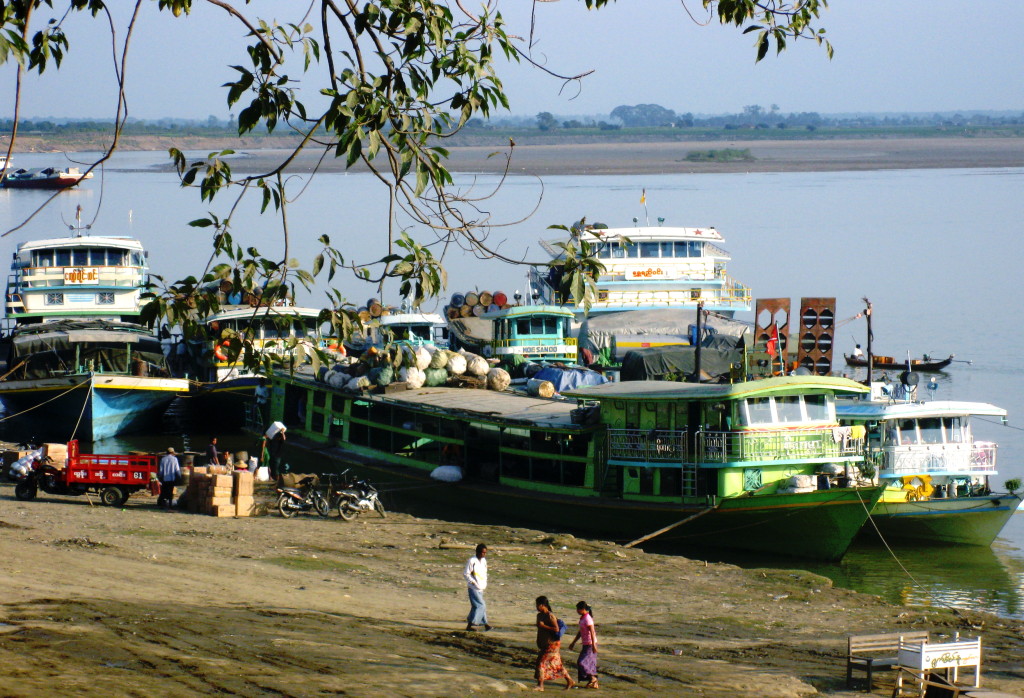 All the seats were reserved. So Myanma Airline staff graciously sent a local boy to all the homes and guesthouses of those with flight reservations to see if there would be any no-shows. Thank goodness, there were four cancellations. The plane ticket for a foreigner cost $90 US (must be USD and exact amount) and for the locals, it cost 64,000 Kyats. Plus, there's a charge of 2000 Kyats for non-carryon luggage. Be sure to reserve 4000 kyats for the taxi to the airport (which is basically the back of a truck.)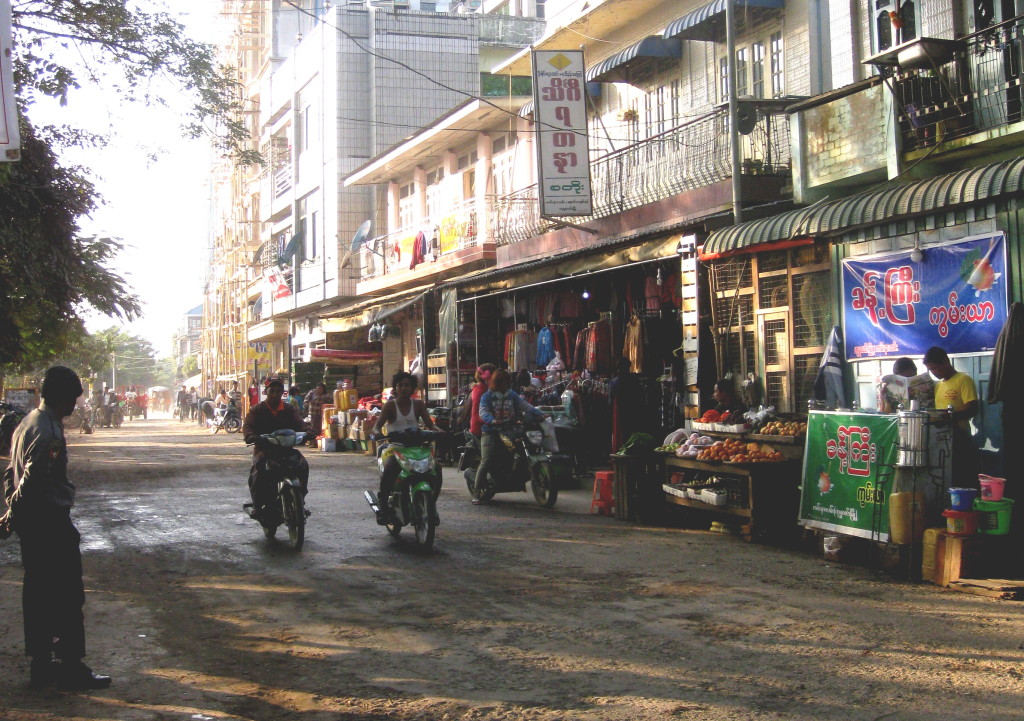 The plane left in the morning around 8 a.m. The same people who sold the tickets in town, processed tickets at the airport, checked baggage and served as security before boarding.  This meant if you were in town and had questions while they were at the airport, you had to wait until the plane departed. There was a separate inspection of my purse, which was conducted in a dark closet by a female employee. I don't think she could see anything. It's just that way along the Chindwin, expect the unexpected.
I really appreciate you visiting my web page. It means a lot to me. In the comments box, I'd like to hear what you think about my posts – tell similar stories – share other blog forums.
Error: Contact form not found.